Rosedale Center
10 Rosedale Center
Roseville, MN, 55113
Please contact us for price
Lane Walsh
Vice President- Retail Leasing
Holly Rome
Executive Vice President- Retail
Lease Description
Now available for lease, retail Rosedale Center located at 10 Rosedale Center Roseville, Minnesota 55113. Available square footage 500 - 30,000 SF. Contact our brokers for further information.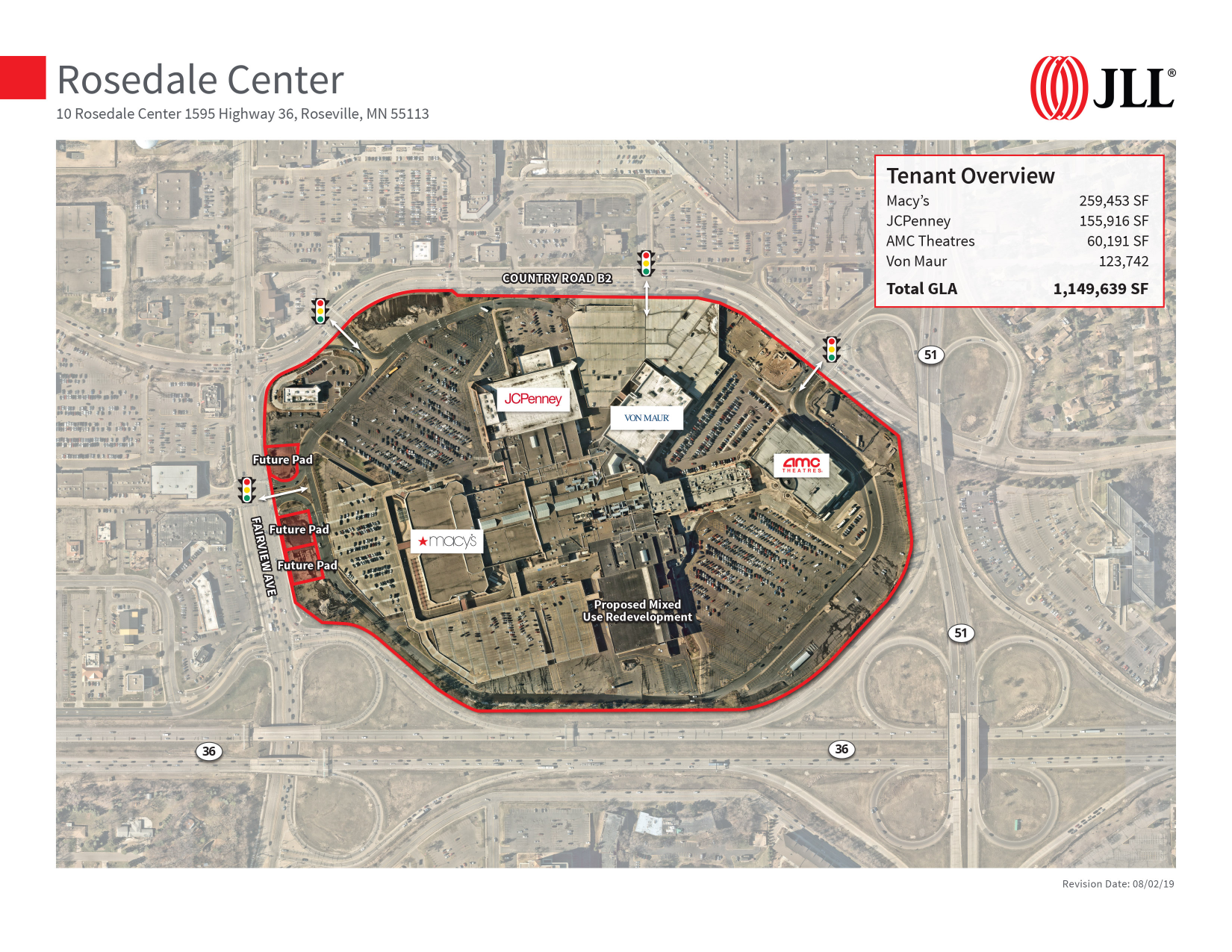 1 FLOOR PLANS
Space details
Amenities
Rosedale Center is centrally located between the Twin Cities of Minneapolis and St. Paul

Sales are in excess of $300+ million and more than 14 million people visit annually

Long-standing history of being the trade area's most popular shopping mall

Multi-million, mall-wide renovation completed in 2018 brings a new look with improved sightlines and best in class amenities

Situated on two major highway arteries (I-35W with 119,000 cpd and Highway 36 with 86,000 cpd) and two major local thoroughfares (Snelling Ave, 45,000 cpd and County Rd B2, 36,000 cpd)

Anchor tenants include Macy's, JCPenney, Von Maur, and AMC Theatres - a top theatre in the Metro area featuring 14 screens, state-of-the-art sound, and IMAX

Food offerings that satisfy a variety of appetites including Chipotle Mexican Grill, Granite City Food and Brewery, Panera Bread, and first-to-market food hall, POTLUCK
Location
Airport
The nearest airport is St. Paul Downtown Airport.  It is located at 7.9 mi or approximately 165 minutes walk distance.
Brokers
Lane Walsh
Vice President- Retail Leasing
Holly Rome
Executive Vice President- Retail